It's no secret plus size and curvy people have a hard time finding fashion in general. To add insult to injury, most of our fashion happens to also often be only available online! If you have ever been staring at your computer thinking, "If I buy this, will it look good on me or even fit?" Then you have come to the right place. Today, I am going to be telling you how to find plus size fashion that is trendy, attractive and fits your body type!!!
Imagine if when you saw an item online and you could start tweaking it to your liking. For example, you want a different neckline, arm or garment length and like a fairy godmother, poof your wish is granted. You don't have to wish anymore! The good news is there is a brand that has decided to do things differently by allowing you to customize your clothes! WHAT! Yes, you heard me right. Custom fit clothes are no longer for the rich and famous. You my friend can have quality items that are made to fit you like a glove. Be sure to read to the end because I am going to hook you up with a big coupon code. They are also offering free customization at this time for your first 3 orders!! You're welcome.
Hate reading or need to see for yourself? Watch my YouTube try on video review here
*Full disclosure, I was gifted the items in this blog to review. Gifting me items does not affect my opinion to my audience. My opinions are my own and I will tell you straight up what I think. I have been a fan of this brand for years and have purchased their clothing in the past with my own money.
This brand is called eShakti. I know it's hard to say and spell but let me tell you this, they are a brand you want to have in your resources. They saw a gap in the fashion industry where people being stuck with closets full of clothes that didn't fit and set out to solve the problem! You can go to their website and select any style then begin the customization process on sizes 0-36W. Now, if that isn't size inclusive honey, I don't know what is!
Their site even has information on how to measure yourself. Then you use your measurements to select your size on the garment you have chosen. They have everything from sweaters, pants, skirts and dresses. Each is cut and made to fit the person they are ordered for thus reducing fabric waste. Which is great news for the environment but also cost efficient for you and the brand.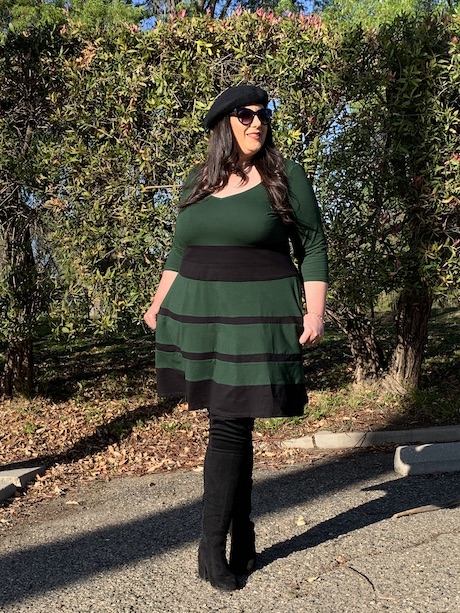 Next you input your height. Your height is a key piece of data because they use it to formulate where your garment length will come to based on your actual height and not some random models measurements. Now that you have that out of the way, you select your garment length. Next, select your neckline preference and your arm length if applicable on that particular garment. They don't stop there. You can even add side zippers and pockets to most designs as well FREE of charge. This is such an amazing benefit because now you can select the exact style combination that fits and flatters your body.
If you aren't sure what will look good on you… simply think of existing clothes that you have that people have given you compliments on. Next, think of clothes that you feel look amazing on you. Take those items out of your closet and lay them onto your bed. Analyze their features and select those same or similar features when ordering on the eShakti website! If you're still stuck, let me put it out there that in my experience I find that many of my curvy style clients look amazing in a 3/4 sleeve, with an exposed neckline and mid length garments.
In fact, that is exactly what I order on two of my dresses and something a little different on the drop dead gorgeous button up dress below. For size reference, I am 5'5, size 18/20. I got all three items from this brand in a size 2X.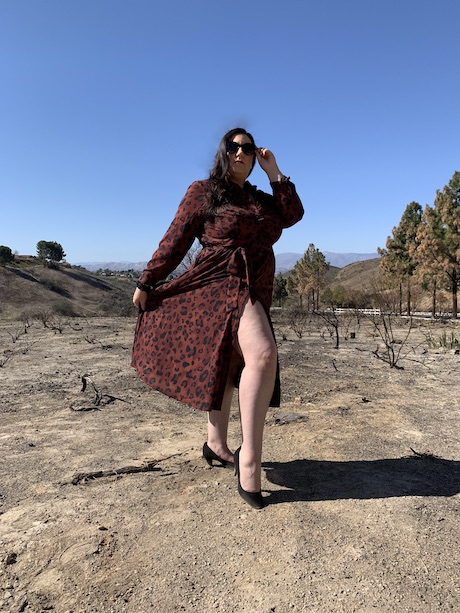 This company prides themselves on two things: 1) Making sure the customers items fit 2) Getting these items to you quickly (my items arrived less than 2 weeks after I ordered them!) When your item arrives, their loving care does not stop there. They have something called a perfect fit guarantee. With that guarantee, they offer to fix any item or give you a credit for anything that doesn't fit upon arrival to you. You can even upload pictures to show them where the problem is so they can fix it. I have to say, I have never had an issue. My items have always arrived perfectly fitting with no need for anything else. The entire process always make me feel like some queen being doted on.
They even include thank you cards that tell you who made / cut your pattern, the tailor and quality assurance person! There is something so special about knowing who was working on items specifically for you with care. I loved all the items I chose and even picked up three adorable face masks as well. You can see what those look like on my YouTube review here.
If you are ready to step into confidence and comfort with personalized fashion use my coupon code "STYLINGCURVES30" to save 30% off your first order and shop their website here.