One of the biggest requests I get in spring and summer is where to find trendy and great fitting plus size swimwear. This year I was introduced to the brand Meet Curve. Full disclosure Meet Curve sent me four curvy swimsuits for my review which I used as examples for this blog post. Spoiler alert they also gave me a coupon code for my followers as well! Read through to find out the details.
*Please note links in this blog may be affiliate links which means we make a small commission if you purchase something using a link at no extra cost to you.
With this collaboration I was able to pick two plus size swimsuits and Meet Curve surprised me with two others. In fact, one of the suits is not available to the public, but they wanted my style input in advance of its release. I love when brands do this. It tells me they are interested in hearing a plus size persons opinion and are willing to put their best effort into making what the market desires instead of just pushing out cookie cutter designs. Overall, each suit they sent had features I really liked. I'm going to share why those specific features can be important factors in the decision process when you select the perfect swimsuit.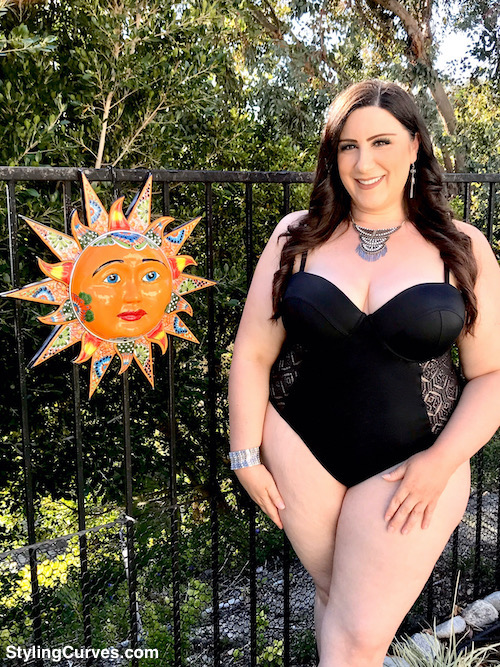 The one piece swimsuit
An all-black one-piece suit is by far is the most requested swimwear style I get asked about from plus size or curvy women looking to hit the water for the season. However, a black suit does not need to be boring. As a stylist here are some of the features I took into consideration for my selections.
First off, support. A bust will always look better when it has support and a little padding to mask your chest during cold weather. The suit I chose had underwire, padding and adjustable straps. These features are an absolute must for making things look tight and right. Second, trick the eye. I went for a suit that had a stretchy inlaid lace design on the sides which draws the eyes inward towards the solid fabric. This gives the illusion of a smaller waist. Third, coverage. The lower set leg holes and ample bun coverage look great on the most plus size bodies. Fourth, bust security! An extra strap across the mid shoulders secures the top in place so you won't go losing a strap in a rough wave at the beach etc. While I tend to wear bold colors and bikinis this suit quickly won my heart. It honestly looked good at every camera angle. It could also be repurposed as a bodysuit and worn with slacks, a skirt or shorts for a completely different look! Before you ask yes, it's totally acceptable to wear things differently than their intended purpose and expand your wardrobe!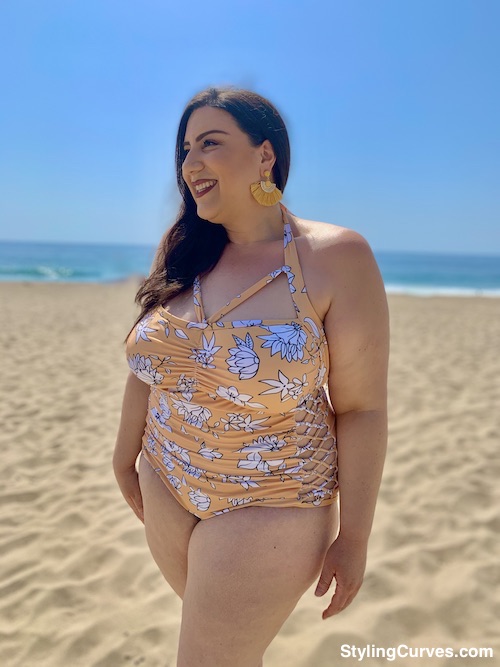 Another option for a one piece is to select one with a large print and added details for a trendy look. Suits like the one pictured above with the cage style top draw the eye to just above the bust area where the exposed neckline can make you appear thinner. One pieces normally have longer length torsos but if you also select one with a knotted crisscross side design that is stretchy it can accommodate those with a thicker mid-section without making the rest of the suit look baggy.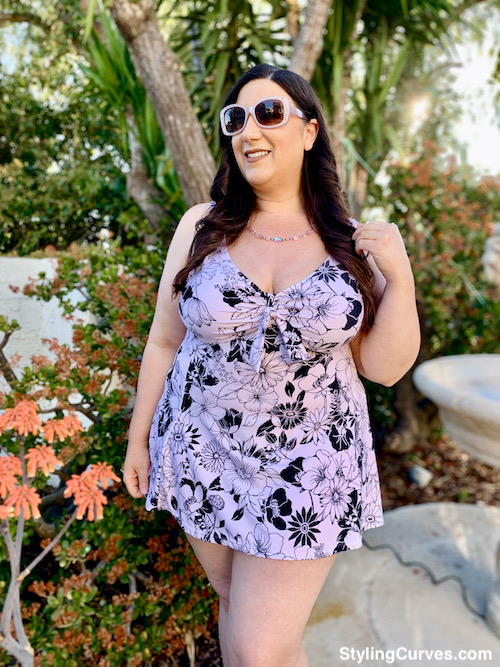 The tankini
Second runner-up in requested styles is the tankini. The tankini's skirted bottom make them look like a flattering dress. They offer maximum coverage for your mid to lower half and are perfect for apple, pear or inverted triangle body types. Their design also easily allows you to go from the beach straight into a cafe for lunch without the needing to change your clothes which is an added bonus. While, I love the print of this suit they surprised me with I would have preferred it in a darker color. If you are also a pale tone skin type like me opt for deep dark colored suits instead of muted or soft hues. As a soft muted tone can tend to make the skin appear more pale. A traditional bottom is always a good choice with a tankini so you're comfortable without any extra bulky fabric. It also would allow you the option to lift your top up to your waist while laying out if you want a good tan.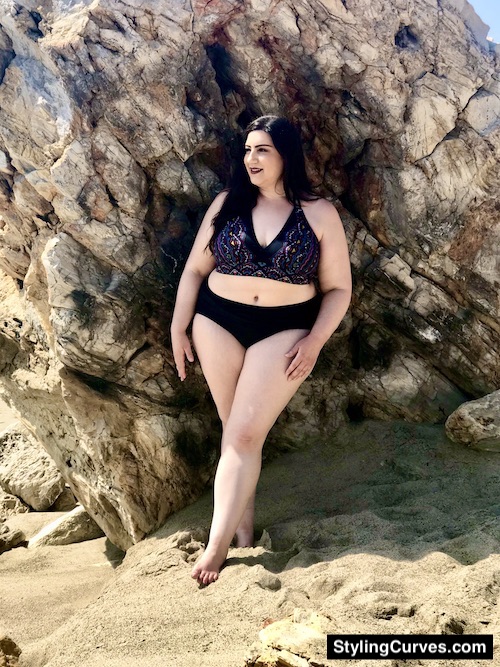 The bikini
Third is my favorite type of swimsuit, the bikini. When selecting a bikini for your body type pay attention to how you are built and cater to that. For example, I tend to have a flatter stomach and a short torso so bikinis with low cut bottoms look best on me. I also tend to prefer a high cut leg because of my thick thighs. The suit pictured does not have high cut leg holes but I chose to size up to make sure it would fit properly. If you carry your weight in the mid-section a high waist bottom with lower set leg holes might be the proper choice for you. The type of chest you have will help you determine what style top would work best for you. I you are small chested and don't need a ton of support, a bando, crop or triangle top might be the way to go. For bustier figures a halter top or any style underwired top with straps are an excellent option. If you want to minimize the chest area pick a dark color, if you want your bust to stand out choose bright colors.
Overall, my experience with Meet Curve plus size swimsuits was great. My items arrived quickly, were made well and had thick fabric. Their website has a ton of other cute and trendy choices to choose from at affordable prices. If you like any of the suits I used as examples in this blog, you can use code MEETDEANA10 to get 10% your purchase using this link for the next 10 days.
I hope you found this information helpful and would love to see what you chose. Make sure to DM me @StylingCurves on any of my social media and send me a picture.
Until next time…..
XOXO
Styling Curves ®